How to Use the Google My Business Free Marketing Kit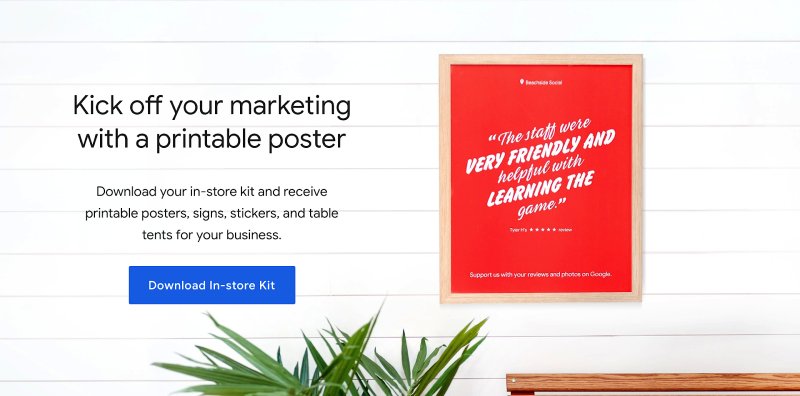 If you haven't noticed already, Google My Business has made some changes to the way your business is displayed online. Recent updates make it easier to control your listing, share posts and updates, and upload photos on the go.

The Google My Business Marketing Kit takes customization a step further, and helps you create personalized posts, printable posters, graphics, and stickers for your business.

Here's how to use it.
First, visit the Google My Business Marketing Kit website at https://marketingkit.withgoogle.com/. Enter your business name in the search bar, and click the correct listing.
From here, you can browse through a variety of personalized marketing materials that are ready to download, print, or share!

Options include:

Google stickers such as these that encourage your customers to follow you, submit a review, or book an appointment online:
Customized artwork for social media posts, posters, signs, and table tents featuring customer reviews of your business. Just click on the "Choose Other Styles and Reviews" button to select your preferred design and content.
If you have great reviews, custom posts can be a great opportunity to feature and share customer feedback. Select one that you feel puts your company in its best light. Otherwise, select "Business Info" to switch to posts featuring your business hours, address, and more.

Then, select "Next."

In the next screen, you can see your selected review featured in different layouts and colors. Select the one that feels consistent with your brand.

Then, click "Finish." Once the feature has updated the marketing kit, you'll be able to download the new artwork and use it to promote your business!

You can navigate back and forth in the tool to try out different reviews and styles, and download multiple marketing kits.

The marketing kit also creates artwork for printing window stickers, table tents, postcards, and flyers.

If you are logged in to your business's Facebook page, you can also automatically post Google's "ready-to-share" social posts.
Finally, the marketing kit creates a custom video featuring business highlights and reviews. Click the Facebook, Twitter, or Hyperlink icons below the video to share online.
Here's ours:

The Google My Business Marketing Kit is a great opportunity to stand out and highlight your listing with just a minimal investment of time and no additional cost.

If you have questions on how you can best optimize your Google My Business listing and online presence, feel free to give us a call at (800) 499-2064.