Easily Manage Your Business's Google Listing with the New Google My Business App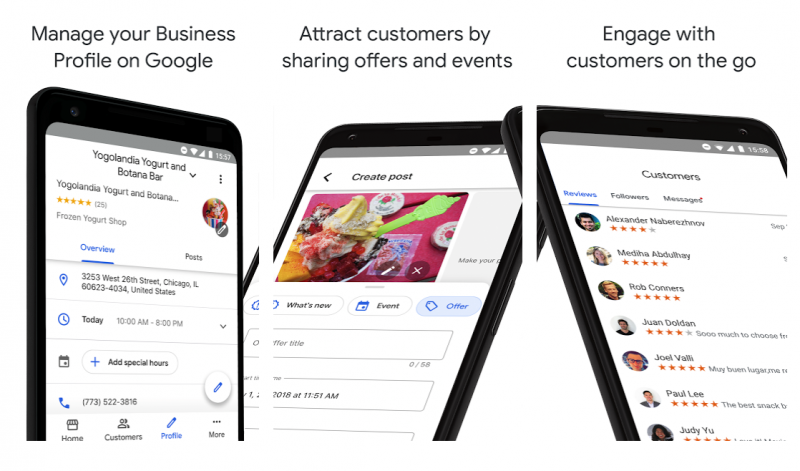 The Google My Business app makes it easier than ever to update your business information, upload photos, respond to reviews, and post updates to your free Google listing. Watch this one minute video for a quick overview:
The app is tailored towards small business owners, and simplifies the process of managing your listing through your phone.
Here's How to Get Started. . .

Log in with the Google account associated with your listing. The app's homepage will prompt you to fill out your listing with a logo, create a post, upload photos, or turn on messaging if you haven't done so already.

Update Your Business Information
Visit the Profile tab to make sure your business information is accurate. Here you can edit your business's most important information such as your business name, category, address, service area, and phone number, but be aware this may kick your listing back into verification. In order to re-verify your listing, Google may require you to complete a quick phone verification, or a postcard verification that can take up to two weeks. You should also add a detailed business description, check your business hours, and add special hours for holidays. Changes to your listing may not show up immediately, so make sure to check back in the next 24 hours. We recommend checking your business information on a regular basis, because customers can submit changes to your listing that can go live without a notification. The GMB app makes it easy to check on your listing through your phone and make adjustments as needed.
Post to Your Google My Business Profile
Once you are on the Profile tab, click the Posts button on the top right. Here you can create a post instantly by taking a photo or video through the app, editing it, and writing a caption. You can also add Posts about upcoming events, special offers, new services or products, recent awards, and more. We recommend keeping your Google My Business content fresh with weekly updates.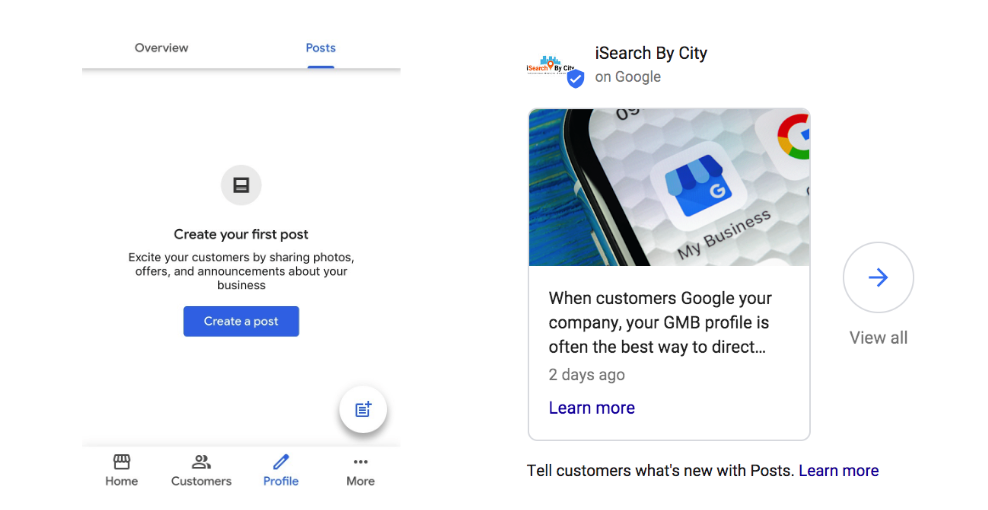 Interact with Your Customers
Click the Customers button in the menu at the bottom to read and respond to reviews, answer messages, and check your followers. For service-based companies, responding quickly to Google My Business messages can be a great way to capture leads before they move on to a competitor. Additionally, by thanking customers for good reviews and acknowledging negative reviews, you show your customers that you value their feedback and are truly committed to offering great customer service.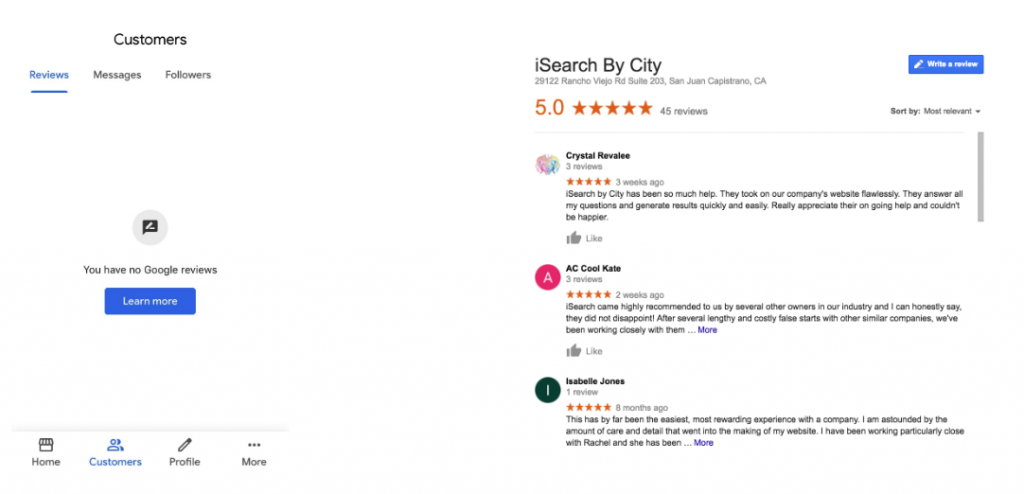 Need more help? Give us a call.
iSearch By City provides professional, cost-effective local search marketing for small businesses throughout San Diego, Los Angeles, Riverside, and Orange County. We specialize in creating fully optimized, responsive websites with keyword rich copy. Our services also include social media management, pay per click management, and blogging. If you're interested in optimizing your Google My Business listing, give us a call at (800) 499-2064 for a free consultation to see how we can help.