5 Tips for Generating a Successful Email Marketing Campaign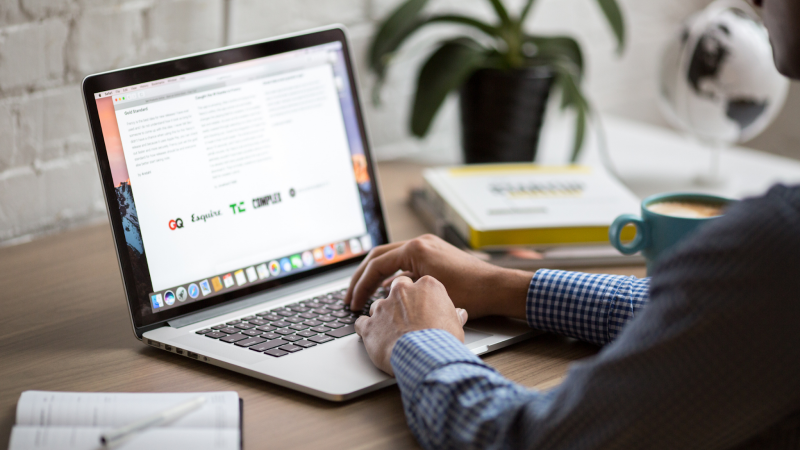 Case Study: How Email Marketing Can Increase Leads for Your Business
Direct communication with past, current, and potential clients is a valuable tool for small businesses across all industries, but many business owners don't have the time to reach out to each client individually. Email marketing is a great way to reach a large group of your clients with a personal touch and without a major advertising budget.
iSearch By City recently provided one of our HVAC clients with a professionally designed and templated email promoting their spring air conditioning maintenance services. Their email campaign successfully reached thousands of clients and generated over 100 unique leads as a result. 
Below are 5 easy tips for generating a successful email marketing campaign for your small business:
1. Create a list of past clients and potential leads.
Your mailing list can include clients with who you've previously worked, as well as potential leads in your area. Our HVAC client had a mailing list of over 8,500 contacts, and though they may not all turn into leads, subscribers are more likely to have your business in mind when they do need services in the future.
2. Craft your message.
A strong subject line can make your email stand out in a crowded inbox. Keep it short and to the point—a long subject will get cut off. We recommend keeping the subject line 40 characters or under. The body of your email should also be concise, highlighting your service or product and providing a call to action. Check out this free subject line rating tool to evaluate the effectiveness of your copy.

3. Design your email.
Make a good first impression with a clean, visually appealing design. Your customers may not have heard from you in a while, so be sure to place your logo in a noticeable spot. If you have company colors, you can incorporate them into your email with a branded layout or colorful graphics.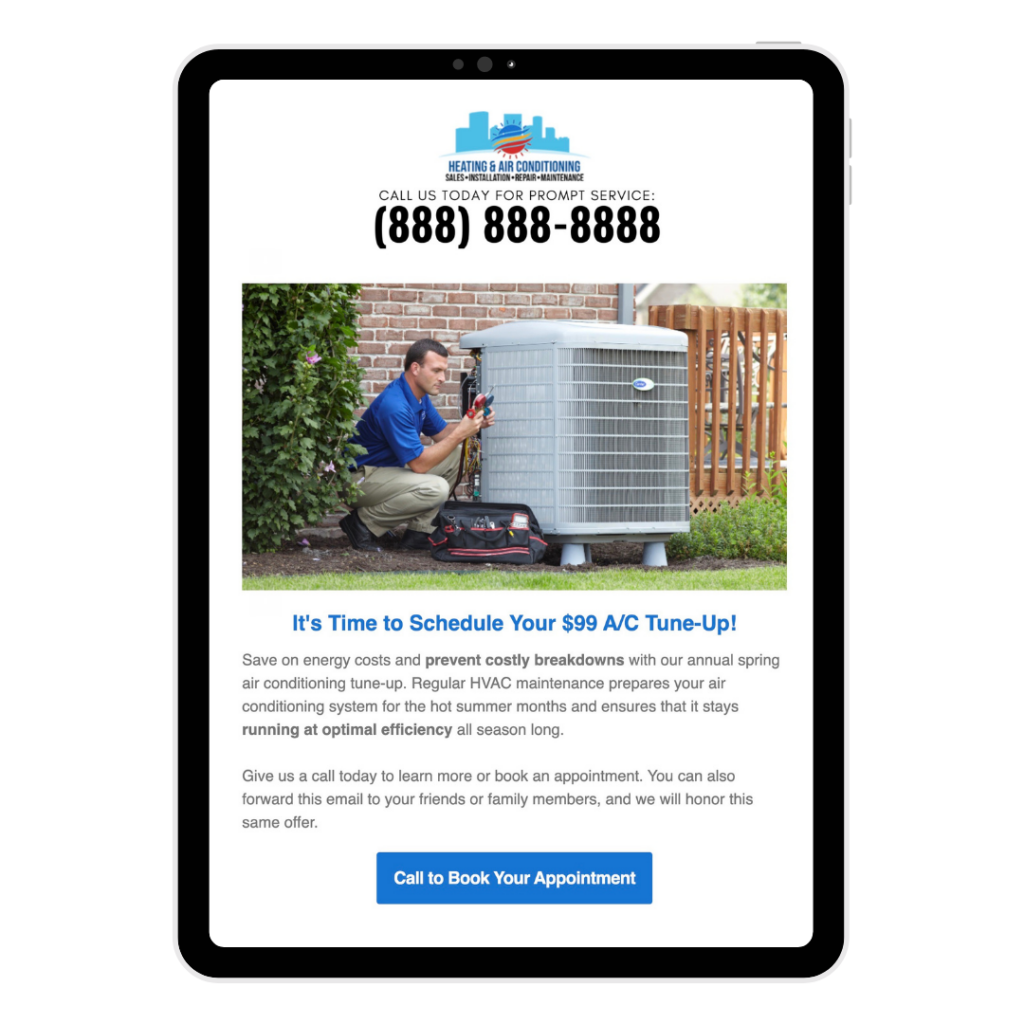 4. Add a call to action.
We closed the email with a clickable call to action (CTA) for readers to call the company to schedule services. Ending on a clear CTA helps clients take action immediately rather than putting it off until later.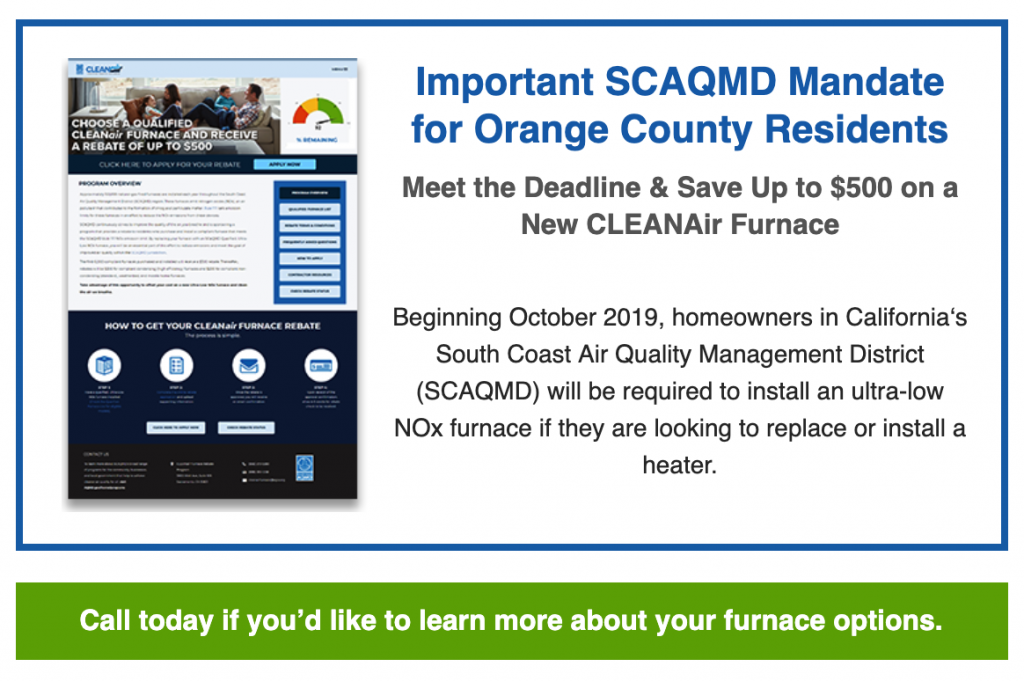 5. Monitor analytics of each email campaign to improve the accuracy of future e-blasts.
Programs that provide email analytics can be a valuable tool to improve the effectiveness of your email marketing over time. Here you can see the number of successful deliveries, opens, and clicks from our e-blast. As you can see, some people opened the email multiple times, which is why the number of total opens is nearly double the number of people who opened the email. The open rate is 32.2%, significantly higher than the average of the list, and over 15% higher than the average open rate in the Home and Garden industry.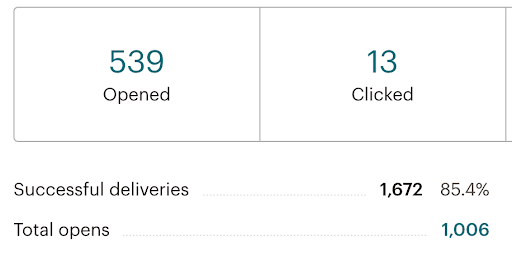 Below you can see the 24-hour performance of the campaign. This tool can help to identify the best time to send future emails.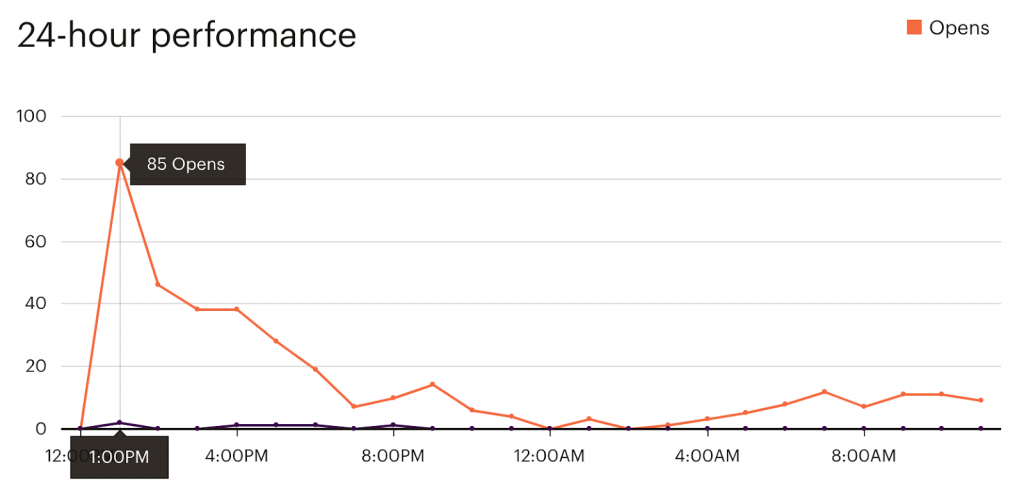 Tracking the analytics of your email can help you find the best time to send future e-blasts, tighten up your email list, and identify how many people opened the email. As you continue working on your company's email marketing, you'll become more and more familiar with what works best.
---
iSearch By City offers high-quality, affordable email marketing services. Each package is highly customized to fit your business, and our team of professional copywriters and designers work with each client to create a personalized and professional final product. To learn more about our search engine optimized websites, robust search engine listings, social media marketing, email marketing, and more, contact us today at (800) 499-2064.